Corporate information
Corporate philosophy
Navigate the market in order to aim consumers' wealth and comfort
RIC RESEARCH Co. strives to serve improvement of consumers' affluent and comfortable life and benefit of our clients, by providing our clients with right recognition and direction in the market based on consumers' point of view. Moreover, the staff of RIC RESEARCH Co. pursues self-actualization by contributing to consumers and clients as provisions of growth.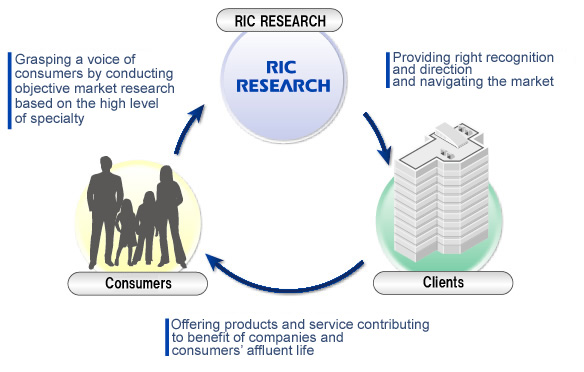 Company message
Since the foundation of 1987, RIC RESEARCH Co. as the market research firm of the RIC group companies has developed business with keeping in mind the following three points:

From now on, RIC RESEARCH Co. will continue specializing at the field of consumer electronics industry, and will evolve further to be unique position for our clients with accurate and passionate attitude as the highly specialized market research firm.
Company overview
| | |
| --- | --- |
| Name of company: | RIC RESEARCH Co.,Ltd |
| Foundation: | December 3, 1987 |
| Capital: | 10,000,000 yen |
| Representative Director: | Makoto Ohashi |
| Address: | 3-23-8 Yusima Bunkyo-ku,Tokyo, Japan TEL:03-6821-7141 FAX:03-6821-7142 |
| Our bank: | Tokyo-Mitsubishi UFJ Bank Akihabara Branch |